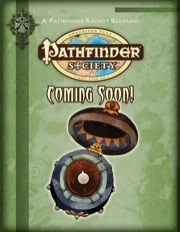 A Pathfinder Society Scenario designed for levels 1–5.
The Pathfinder Society discovers an Aspis Consortium base in an ancient Vudran temple now encased in a glacier and sends the PCs to infiltrate it and investigate the extent of the rival organization's regional operations. Can the PCs get in the well-guarded Aspis outpost and escape with their lives and the information the Society seeks?
Written by Jeff Erwin.
This scenario is designed for play in
Pathfinder Society Organized Play
, but can easily be adapted for use with any world. This scenario is compliant with the Open Game License (OGL) and is suitable for use with the Pathfinder Roleplaying Game.
Continue reading...